Want to know more about how to help your business in times of crisis and afterwards? Click the button below and our Facebook bot will send you the ebook.
COVID-19 is spreading quicker than we thought. And so are the conversations, hoaxes and anxieties on social media. It makes sense that staying in quarantine is turning us into heavy users of social media platforms, where we just love to discuss and search for the latest information about the pandemic.

Social media networks are more than aware of this behaviour. They promptly took significant steps to stop spreading misleading information and harmful content. By providing users with educational materials and timely news, they are helping them to overcome depressions and anxiety.

Last week, a joint industry statement from Facebook, Google, LinkedIn, Microsoft, Reddit, Twitter and YouTube was released, stating their close alliance in fighting this crisis. Also, coordination with government health agencies was announced to ensure sharing accurate updates and information.

Facebook is taking the lead!

Facebook has definitely taken the lead in fighting the COVID-19 crisis from the very beginning, showing the way to other networks. From the moment WHO declared coronavirus a public health emergency in early January, they've taken a big variety of actions to not only stop spreading misleading information, but support businesses, health organizations and communities. The company made significant changes also to its Instagram and WhatsApp apps.
The biggest steps made by Facebook in a nutshell:

To stop misleading information:
1.Removal of all conspiracy theories and false claims detected by global health organizations. Last week they announced a partnership with Fact-Checking Network (IFCN) to launch a $1M grant program to support fact-checkers amid COVID-19.
2. Ban of all ads trying to monetize on COVID-19, while providing unlimited free ads to WHO and other health organizations together with additional support. Facebook warned users that Ads approval may be delayed or incorrectly rejected due to reduced and remote workforce.
4. $1M grant to support local news covering COVID-19 in the US and Canada to provide the public with accurate information.

To support businesses:
1.Creation of $100 Million Grant Program to help 30,000 small businesses impacted by COVID-19 in over 30 countries, where Facebook operates. SMBs will be able to put in an application already next week here!
2. Launch of a new Business Resource Hub, providing help to small businesses dealing with consequences of COVID-19 outbreak.
3. Soon launching Facebook Blueprint classes focused on remote working.
4. Supporting their own employees during the crisis with a $1000 bonus.

To support local governments and communities:

1.Donating up to $10 Million for WHO and $10 Million for CDC Foundation.
2. Expanded Facebook Local alerts to "more municipal governments, state and local emergency response organizations and law enforcement agencies. State and local public health agencies will now also have the ability to push out timely, accurate information to their local communities"- as by Facebook.
3. Connecting communities to share accurate information on disease prevention.
4. Provide Workplace Advanced to government agencies and emergency services for a year for free. This way the communication and connection between employees can be more real-time and easy.
What is happening on Instagram?

Various updates have been made also to Instagram in order to support its community with up-to-date and educational information.
1.At the top of the Instagram feed, information from relevant resources, like WHO will be displayed to users in some countries. Hashtags and ads misusing the situation are being blocked and when tapping on COVID-19 related hashtags, resources from WHO, CDC and other local authorities are being shown.

2. Ban on searches for AR effects related to COVID-19, unless they are released by recognized health organizations due to the possible rise of misinformation and anxiety among users.
3. Addition of new stickers #ThanksHealthHeroes to show support and thank health workers and #StayHome to encourage social distancing.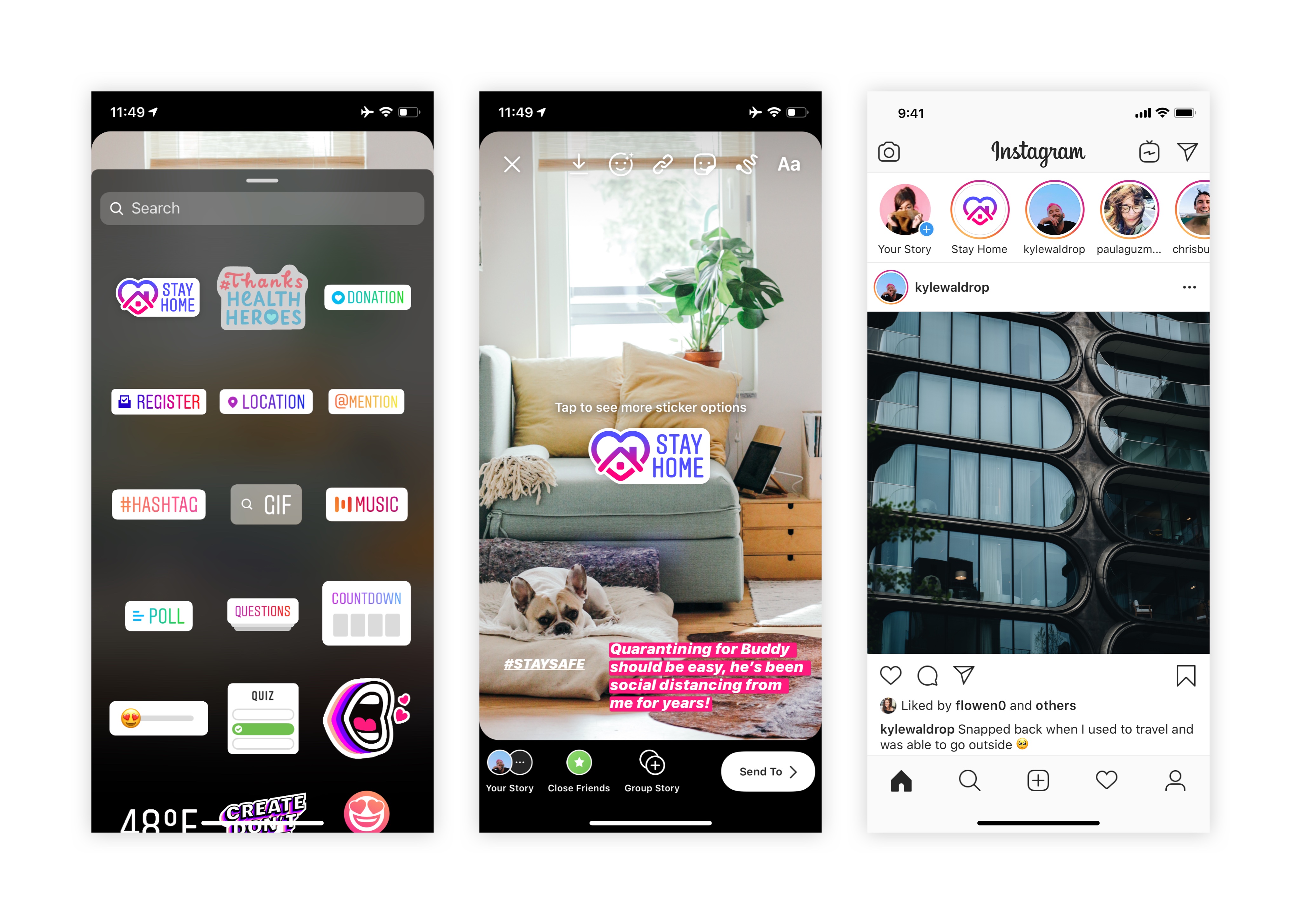 And how did WhatsApp react?

Spreading hoaxes in WhatsApp groups and conversations became a very "popular" activity among users. That's why this Facebook-owned messaging app decided to:
1.Double the server capacity and launch the COVID-19 Info Hub for health workers, educators and small businesses that use the app for communication. They added tips on remote working, stopping the misinformation etc.
2. Release WHO Chatbot to answer all questions regarding the virus. Just message (+41 79 893 1892) 'Hi' and start chatting. This way you can easily get the latest and official information.
Other social media networks are not lagging behind either. Just to mention a few of the updates:
The platforms are currently announcing smaller and bigger updates almost every day. This is the first time in history when the social media industry is working so closely towards the same goal. To stop the common enemy and support people and businesses around the world in this fight.
How Kontentino decided to help?
We realize what a hard time coronavirus is bringing to everyone. That's why we decided to financially support an initiative providing equipment and money to hospitals and nursing homes in Slovakia.

Moreover, we are preparing for you a series of articles and webinars full of tips and guidelines on how to quickly orientate yourself and adapt to this new situation. Regularly check our blog and social media for the latest updates.
You can find here the record from the first webinar: "How to outsmart COVID-19" with Matej Sucha, an expert on behavioral economics and customer behavior and Bo, CEO of Kontentino.
We believe that only through the communal support and participation we can overcome this worldwide crisis and come out of it stronger than ever before.