LinkedIn hashtags have been around for a long time now. After a rocky start, they are now doing well there as well.
But, where did it all begin?
In 2007, Chris Messina tweeted "how do you feel about using # (pound) for groups. As in #barcamp [msg]?"
The idea was to create a new way for people to categorize their Twitter posts and search for specific topics. Fast forward 14 years and hashtags are still going strong on social media sites like Facebook, Instagram, and LinkedIn.
Today we'll discuss using hashtags on LinkedIn. This article is your ultimate guide to doing so: from how they work to the most popular hashtags of 2021!
What is a hashtag, actually?
A hashtag is a word or phrase prefixed with the pound sign (#), which is used to identify messages on social media sites.
For example, hashtags like #socialmedia, #marketing, and #business are commonly searched for by people who want to learn more about these topics. When you use hashtags in your posts (both on LinkedIn and other networks), it's easier for others to find them when searching for hashtags themselves, bringing new eyes to your content!
Just make sure that whatever hashtags you choose have some relevance to what you're posting about so that anyone searching those words will actually be interested in seeing your posts. Naturally, we'll cover that in detail later on.
Even though the option of clickable hashtags wasn't introduced until 2016, it has quickly taken hold on LinkedIn too.
Like on other social media platforms, content marked with a # can reach a larger audience of potential clients and help your content be discovered by people interested in it.
You can add them to your status updates, published articles, or your business page. Alternatively, you can browse through hashtags feeds to see what is being discussed.
Here is a quick breakdown of how LinkedIn hashtags work:
There are two different ways to add hashtags to your status updates. You can:
Put the pound sign before any phrase or word. This will automatically generate hashtag suggestions based on what's trending and popular at that moment.
Choose one of the hashtags listed below the "Add Hashtag" button.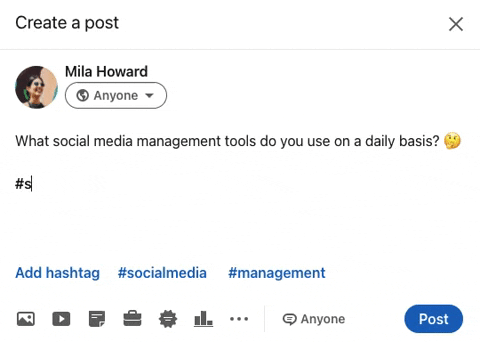 Additionally, you can take advantage of another option. Kontentino has available hashtags presets, which make the whole work even easier. You can save your most commonly used LinkedIn hashtags. It's easy to access them anytime you want and paste them in your posts with one click. See how it works here:
If you want to publish an article on LinkedIn, notice that if you put hashtags in the body, they will only play the role of text and have no clickable option. Instead, add them to the article description – they'll work there.
One more option – you can add up to 3 relevant hashtags to your LinkedIn business page so that you can see and respond to trending posts from the hashtag feed.
What are the benefits of using hashtags on LinkedIn? We want to show you a few that should convince you that they are not worth leaving out of your LinkedIn strategy.
Consider LinkedIn hashtags to be like street banners. They are something people may come across accidentally and might attract their attention. Hashtags work in the same way. People searching for a particular topic can find you more easily and, as a result, you will get users interested in what you write about.
LinkedIn hashtags also work the other way around. Users can find you more easily, and you can reach out to them too. The hashtags you use should always have a clear connection to your content, as this will make it much easier for you to reach out to users who search for those hashtags. They make your post visible to people outside of your contact network = you reach a larger audience.
When hashtags are used on LinkedIn, it's a way to promote affiliation with a certain group. If you're using hashtags for marketing purposes (more on this later), then they can really help boost your campaigns as long as the hashtags align with what your brand is about.
The more specific your LinkedIn hashtags are, the better – especially if you want to target an industry or interest-specific niche of potential customers!
By using hashtags on LinkedIn, you make it easier for users to find your profile – whether they are looking for someone with similar interests or for something specific.
Here is the most important thing about hashtags on Linkedin...
…use them correctly!
Searching through hashtags can be tedious and time-consuming if you don't have any idea about what people may actually be searching for in regard to your industry.
That is why having a good understanding of hashtags themselves and how their presence might affect viewers and potential customers is so important. When done right, hashtagging will help expand your reach and also provide information that makes sense to those interested in finding answers around a given topic.
By using LinkedIn hashtags, you increase visibility – and the more people see your content, the more they can interact with it. However, to ensure that hashtags work as intended, you need to use them cleverly. To learn how, keep reading.
Note: There may be a situation where you get a notification on LinkedIn that your content has been trending. This means that your post is visible as one of the first posts on a particular hashtag feed. This should result in a slight spike in engagement.
How to find the perfect LinkedIn hashtag?
How can you find relevant hashtags for your post or topic of discussion and know that they fit together like, let's say, steak to a hot pan?
The truth is that there is no one recipe that works for everyone. It is still possible to get close to cooking up a storm, though.
Keep an eye on those you follow. When they shared a post that got the most reactions, what hashtags did they use? Of course, you shouldn't use them all, but make use of those relevant to your brand. There's a chance they will work for you too.
Make use of LinkedIn hashtag suggestions. LinkedIn suggests hashtags based on your profile, content, and previous messages. However, you still need to use them carefully, as they are not always a hit.
Use LinkedIn Analytics. Look back at your previous content and see which hashtags generated the most engagement and reach.
Observe trends. This is the next step to choosing the perfect hashtag. However, you should first narrow down the research to your industry and analyze available reports. Furthermore, there are tools on the market that show you which hashtags are the most popular at that given moment. Make use of them.
Do some brainstorming and list hashtags that align with your brand. What types of hashtags are worth looking for?
These are mostly used to categorize content – people can quickly find the content that you tagged with a certain #. Mostly used by people who want to create a personal brand on LinkedIn.
Those that a company "owns". It might be one general hashtag for the business and more specific ones for each campaign.
Specialty or Location-Based Hashtags
These are great if you're trying to reach out to a more specific group of people, for example, residents/tourists of a particular city.
Ones created for the purposes of a particular event. They help to create a community and gather UGC.
LinkedIn has a more professional image compared to other social media platforms, which is why hashtags need to be treated with a slightly different approach. Looking for tips and tricks for using hashtags effectively in your posts? Here they come.
Do's: The most simple, but at the same time one that is most effective – keep them short and easy to remember (this makes it much easier for other users.)
Do's: Make them appear and sound natural.
Do's: Format your hashtags (they will look much better if you use capital letters for each word, e.g. instead of #bestpractices, use #BestPractices – you will still be found regardless, so don't worry.)
Do's: Add hashtags to both your company and personal pages.
Do's: Monitor hashtag performance constantly.
Do's: Check the spelling. ALWAYS.
Do's: Test what works and what doesn't, then draw appropriate conclusions.
Do's: Use a mix of high density and lower density hashtags (high-density hashtags have thousands of posts and are highly competitive but include a larger community, while lower density hashtags are less popular but they help create a smaller community and it's easier to rank higher with them.)
Don'ts: Put hashtags in your bio or company bio (they are not searchable.)
Don'ts: Putting spaces between words (this doesn't work either.)
Don'ts: Use punctuation (it works like spaces.)
Don'ts: Use funny hashtags from other social media (LinkedIn isn't the same as other social media platforms – this doesn't mean you can never be controversial or funny, but just make sure the content is pertinent to your brand.)
Don'ts: Overdo it and add too many (stick to one or two hashtags per update otherwise the LinkedIn algorithm may treat you as a spammer.)
Don'ts: Use the same set of hashtags over and over again (LinkedIn's algorithm may not like it.)
When not to use a hashtag at all?
In some cases, hashtags may not be appropriate. Remember to always check if there's a heated discussion going on around the particular # you want to use. A few examples of companies that made the incorrect use of hashtags in the past demonstrate the importance of good hashtag research – including Entenmann's accidentally participating in a heated discussion about a controversial trial verdict.
Also, when you want to make a hashtag containing several words – but together it looks a bit odd, too long, or worse, creates an unfortunate combination – let it go.
The only advice we can give you here is to always assess whether or not a hashtag is appropriate, used in the right situation, in proper context, and at a good time.
We checked the latest reports to find out what the top LinkedIn hashtags are. The results might surprise you, but they will show what are the current most talked about topics on LinkedIn in 2021.
#india — 68M
#innovation — 39M
#management — 36.2M
#humanresources — 33.4M
#digitalmarketing — 27.5M
#technology — 26.4M
#creativity — 25M
#future — 24.7M
#futurism — 23.7M
#entrepreneurship — 23M
Other LinkedIn trending hashtags
#creativity — 25M
#startups — 21.4M
#marketing — 20.3M
#socialmedia — 19.8M
#personalbranding — 10.5M
#softwaredesign — 6M
#userexperience — 4.7M
#jobseekers — 1.3M
#automation — 141k
You should start to use (or shouldn't resign from using) hashtags on LinkedIn. They can help you reach more people, get noticed, and find users who share common interests. Remember all of these best practices and tips to ensure that you use them in the right way.
Just one more thing to keep in mind – a LinkedIn marketing strategy isn't just about hashtags. They are a part of something bigger, and that is coherent marketing communication. So if you want to keep organized and manage your LI account in the best way possible, try out Kontentino for free.
Be visible. LinkedIn hashtags are alive, and they work.