You probably know a thing or two about social media. You may be running accounts of big businesses or local brands. You know some social media hacks… but it turns out that others know them, too.
Yet you want your social media communication to shine bright like a diamond.
How to stand out from the competition when you have very few resources or have run out of ideas? Our quick guide can help you come up with a few new ones.
Social media hacks for Facebook posts
Who said that your Facebook posts have to be boring? There are more formats than just a photo that you can use. Creative Facebook hacks can help you stand out from the crowd – and today, we are going to show you a few social media hacks to follow.
4 SQUARE PHOTOS IN ONE FACEBOOK POST
Did you know that if you post 4 square photos, they will be displayed as one big square with four clickable smaller squares? This way, you can make a kind of collage or just an attractive set of graphics, and put a description for each piece of the bigger picture.
Check out how you can use this format:
When you click on each of the shapes, it turns out that it's a separate photo with a separate description. If done right, this social media hack can look spectacular on your timeline.
VERTICAL/HORIZONTAL PHOTO (RECTANGLE PHOTO + 3 SQUARE PHOTOS)
Photos of various dimensions will not always look great next to each other. You can experiment here! If you insert one rectangular photo (horizontal or vertical) along with three square photos, it will be displayed like a showcase of the whole gallery. All of the elements will be clickable (zoomed in and shown with the description when clicked). How can you use it? Some brands leveraged it as it is shown below – showing one photo from a professional photoshoot as a kind of a cover, and three packshot photos next to or below it.
CREATE 360 PHOTO
While creating 360 photos is nothing new on social media, still, not many brands make the most of this feature. It looks refreshing on the feed – and it is not that hard to make.
Simply take a panorama photo and upload it to Facebook. Here you can find a list of supported devices.
CREATE OFFERS
Do you run an e-commerce business and want to get more recognition on Facebook? You can redistribute your discount codes like a pro. This may support your live chat activities or promotion via email marketing.
Instead of posting a photo or video with a particular promo code, create a post in the "Offers" format. You need to fill in a few fields (discount code, terms and conditions, whether it is valid online/in-store), but your offer will look professional and neat, and its format can attract many potential clients.
CREATE VIDEOS IN THE FB AD EDITOR
There are many video converter tools on the Internet that you can use for creating videos. However, it is easier said than done. Some of them may be expensive or unintuitive, or you simply do not want to add any more tools to your already impressive toolbox.
On the other hand, you could really do with some nice videos or in-app video ads for social media posts.
Ladies and gentlemen, say hello to another social media hack – creating videos in the FB ad editor.
How to make it work?
Turn your Ad Manager on and start creating a campaign, with an Engagement goal. You can keep all of the fields set to default, it is the very last page of the campaign creator that should keep you interested.
Click on "Create Ad". You probably always used your own assets here, but not this time! In the "Media" section, you can see buttons for creating a slideshow and creating a video. Click on the latter one.
You'll be redirected to the Video Creating Kit where you can find a few square and vertical templates that you can customize after you've added some images.
You can also create a slideshow if you click on "Create a slideshow".
Choose one and customize it. Here, you can change the background, add some text, logo, stickers or effects.
Click on "continue"… and voila!
You can, obviously, use this video for your ads and pay for its distribution. However, there are some social media hacks to also post it organically. How?
Confirm your campaign. Do not worry about placements or budget because…
The next thing is to pause your campaign immediately in Ads Manager. Yes, pause your campaign. It's super important!
Then, go to "Page posts"
Choose "Ads Posts", mark the post you've just made and select "Publish" from the "Actions" drop-down menu.
Well done, your post just got published on your Facebook Page, and you can add this one trick to your list of social media hacks. You can do exactly the same with other types of posts, including Lead Ads, for example. Enjoy and make more money by saving it!
PS. You can also download the video directly from Facebook later (and use it, for example, for Facebook stories), but it may affect the quality.
PS2. If you choose a different objective and actually decide to keep a paid campaign, you can add a poll to your video.
PS3. You can also create a slideshow with a simple effect and some music in the background, directly on your Page.
PEEP ON YOUR COMPETITORS WITH FACEBOOK AD LIBRARY
More Facebook hacks? Here you go! There is that one magical place on social media you should know… it's called Facebook Ad Library and it's accessible for everyone. Thanks to Facebook Ad Library, you can check your competitors' ads on Facebook and Instagram, in detail. You can also get inspired by big brands and their advertising efforts. In many cases, they are quite impressive and show you some differences between various markets or industries. For example, take a look at McDonald's – they show different creatives in various countries and across various channels. If you are looking for creative Facebook hacks, you can find a lot of inspiration and gorgeous ideas here. What are KPIs and how to achieve them won't be questions without answers any longer.
Social media hacks for Instagram posts
Do you think you know all about Instagram story hacks? There are no Instagram hacks that you don't know about and don't already use? Let's find out. We don't want to prove you wrong, but there may still be some more Instagram hacks to discover.
SNEAK PEEKS ON INSTAGRAM STORIES
Instagram tricks are in full glory on Instagram Stories! We've decided to show you three simple ways of using Instagram Stories for creating some "trailers" for your Instagram posts.
1) Take a screenshot of your post and insert it into your Instagram Story, covering both the photo and its description. Your audience may be interested in what's on the photo and visit your profile. You can also share your photo post directly to your Instagram Stories and cover it with stickers or GIFs. Whoever clicks on it will be redirected to the actual post. Instagram story hack for the win!
2) Take a screenshot of your Instagram post, then publish it on Instagram Stories… showing just a bit of it. Simply press any colour you want and hold it for a few seconds. Your screen will turn that colour, and then you need to use "eraser". It's the first right under the "draw" icon (between Stickers and Aa), next to "done". You'll use that rubber to make some circles or any shapes of your choice, and reveal only a few bits of your content.
It doesn't work with direct sharing of an Instagram post on Instagram Stories – you can change the colour of the background that way, but you cannot cover the photo with this sublime "paint". This is one of Instagram Stories hacks that is not commonly used, so you've got your chance!
3) You can reciprocate point 1) here, just take a screenshot of your Instagram feed and cover the latest post with some stickers or GIFs.
LINK IN IG BIO
As you know, on Instagram you are given only one link, and one link only, so it is better to use it well. One of the Instagram hacks is to replace a single link with a "link tree", a simple landing page with more content. Since you may not be too fond of building your own website, you can use some of the creators online. One of them is Tap.Bio which allows you to create your own, simple landing page. You can add your links, backgrounds, and edit colours or orders. The example you see below took me two minutes to make, so you have no excuses not to use this social media hack!
SHARE LINKS ON INSTAGRAM STORIES EVEN IF YOU DON'T HAVE 10K FOLLOWERS
The "Swipe up" feature is officially reserved for those who have gained more than 10K followers. However, there are some Instagram tricks that you can use to hack the system.
Ensure yourself that you have an Instagram business account.
Add your story WITH A POLL OPTION (Yes/No) on it. For example, you can ask "Do you want to know more about my retail arbitrage course?" or "Are you interested in testing out our affiliate tracking software?"
After a few hours, some analytics will be available – you'll see the first viewers and answers.
You can directly message each person who voted in a "positive way" (meaning they are more interested or want to know more) with some details, discount codes or questions!
How can you use it?
distributing discount codes for clothes, accessories, cosmetics…
sending invitations for an exclusive event
directing people to your website for the newest blog post
asking for feedback for new product or services
many, many more ways!
support for your social media monitoring


You can see how it works in the screenshot below:
CREATE YOUR OWN VR EFFECTS IN INSTAGRAM STORIES
Befriend Spark AR Studio. It is a Facebook-owned platform for creating AR effects for Instagram Stories, but also Facebook Stories and Messenger. Everyone has access to the tool and so can create and publish their own AR effects.
All you need to do is to download Spark AR Studio, and as advanced as it sounds, it is very user-friendly so you can create your effect in a heartbeat. Then, you simply need to submit it for approval of publication and… start using it.
INTRODUCE YOUR GIFS IN INSTAGRAM STORIES
Everyone loves GIFs.
But how cool is having your own, branded GIFs that you can use in social media communication? (check out the Kontentino collection!) Well, let us introduce another great social media hack for you.
First of all, you need to create a GIF. You can either use some online converters (MP4 -> GIF) or try to merge a few photos into a GIF. You can also do it directly on Giphy if your video is shorter than 15 seconds.
Then, you need to upload GIFs to Giphy and tag them accordingly (with the name of your brand, hashtags or any other ideas – keep them as unique as possible to find them easily!). You can find the tutorial here.
Once they are uploaded, you can search for them on Instagram Stories, but also Facebook, Messenger, Twitter or anywhere where Giphy allows you to.
General social media hacks
CREATE CUSTOM AUDIENCES
Reaching your target group on social media can be one hell of a ride, especially if you do not have more ideas of how to get to your audience. If you feel like you have used it all, look for non-standard ways of retargeting. Social media hacks at their finest!
Shorten some external content (for example, Kontentino blog posts ;)) using tools like RocketLink.io and then share your content on social media. Everyone who clicks through these branded links is automatically converted into a member of your perfectly crafted target audience. You can then use it for retargeting these users on Facebook or other social media platforms.
This social media hack will come in handy especially if you lack your own content, but want to build a specific target group. Those who click through on your shortened link to an article about social media management are likely to be interested in this field. If you want to target such people, then you have the group ready.
What does it mean, in short? Lower CPC, higher CTR. Win-win.
USE KONTENTINO TO AUTOMATE YOUR EFFORTS
You can automate many social media hacks – and more – with Kontentino. Creating content plans, scheduling your social media posts or generating reports in a few minutes – just to name a few tedious tasks that Kontentino does for you. What is more, you can communicate with your team and clients better and in the most effective way, thanks to collaboration features. Clients' approval can be shortened by up to 50%, which gives you 50% more time for optimizing your performance and working on the business core.
And that time is all for you, so you can use it to test out and discover social media hacks. Why would you waste time on something that can be easily automated or sped up? Use your creativity elsewhere, not on scheduling social media posts. No need!
AUDIT YOUR SOCIAL MEDIA
Just a bit of warning – it's not a quick, actionable tip or one of those social media hacks to work overnight. It's one of these repetitive pieces of advice you should add to your strategy and come back to on a regular basis. Social media audits should become an integral part of upgrading your strategy. The more often you'll check the condition of your social media communication, the less frequently you'll be negatively surprised by the results.
Preparing a comprehensive social media audit takes time. Our social media audit template can help you answer the most important questions in a few minutes, then you can proceed to the audit. Even the best Instagram tricks or Facebook hacks won't work if your social media communication has a lot of room for improvement or if you struggle with slow WordPress site.
BUILD YOUR CHATBOT IN SECONDS
Are you amazed or impressed by social media chatbots? Do you think that building one takes ages? Here comes another bunch of social media hacks.
You can build one in minutes.
There are some tools online that can help you create a simple but fully functional chatbot in a few moments, by using a drag & drop editor, simple commands and ready-to-use plugins. You can show your offer, create a quiz or contest, or simply build a bond with your fans via chatbots.
Below, you'll find an example of how the configuration looks like in Chatbotize – this one is about completing a survey.
Would you dare to try?
ANIMATE YOUR POSTS WITH GIFMAKER
You'd like to animate a few photos, but, let's face it: you have no time for it? Use Gifmaker.me – I am sure that implementing this social media hack is going to take you no longer than a few minutes.
Create a bunch of graphics of the same type and put one after another in Gifmaker.
Then, you can save it as a GIF or a video with YouTube music (you can find some free music for commercial use out there – double-check it first!).
CREATE ANIMATIONS IN POWERPOINT
Good, old PowerPoint. Presentation's life-saver. But, did you know you can actually create AMAZING videos in this tool?
Powerpoint, really?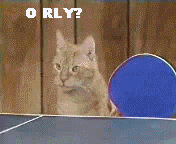 This may be especially helpful for some explainer videos.
How to do it?
Download a nice template, e.g. from SlidesCarnival.com
Choose a few slides you would like to be frames in your video
Customize them with your text, effects, pictures, music – whatever you want!
Also, customize the "speed" – in Slideshow options, you can adjust the timing, which matters for your video because otherwise it will be set to the default
Save your presentation as WINDOWS MEDIA VIDEO or MP4
I created this video in less than 5 minutes, including all of the aforementioned steps!
To wrap up
Of course, it's only a drop in the ocean when it comes to social media hacks. However, these creative Facebook hacks and Instagram tricks often take just a few minutes to test out. Why wouldn't you give them a go?